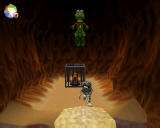 Mummies appear in Desert Island. They walk around stiff-legged, with their arms sticking out in front of them. Every time they take a step they make an audible crunch! noise. Mummies can be defeated with a tail attack or stomp. They sometimes growl at Croc when he gets too close. They do not attack, but if Croc touches them, he will get hurt. They usually walk on important pathways, to stop Croc from progressing.
Levels Found
Croc: Legend of the Gobbos
Croc (Game Boy Color)
Community content is available under
CC-BY-SA
unless otherwise noted.