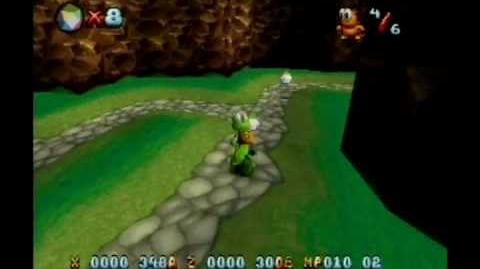 Also referred to as the v0.12 Beta, this version was released as a gift in a magazine but only a few people still own it. This was likely given to a game magazine for reviewing the game, although this isn't certain. It was released in March 1997. The level select menu differs significantly to the final version. It can be downloaded for emulators (see below). See below for the full list of differences:
Controls
To select levels on the Map Screen, use the SELECT, L1, R1 and R2 buttons. SELECT will choose islands 10-70, L1 and R1 will choose previous and next levels, and L2 and R2 will select a part of a level.
While underwater, Croc attacks similar to the 180 degree flip.
Other controls are the same as in the final game, except the camera cannot be controlled with the L2 and R2 buttons. The 180 degree flip is slightly different.
Total Islands: 8 (0-7)
Total levels: 80
Completable levels: 10, 11, 12 and 13.
Playable areas/total: 83/147
The first three levels have the same level titles as the Tech Demo. Some levels have brackets which are considered beta versions of the levels in the final game. Because this is an early release of the game, many levels will crash, cannot be completed or cause other glitches. On the Map Screen, the top title usually represents the type of level (e.g. Forest) and the bottom title is the title of the level. A lot of the titles have no proper meaning, such as Default New/Blank Map or No Level and No Map. While not all doors, wells etc. work, some lead to the next properly numbered area, such as 10 0 to 10 1. Note that this is not always the case.
The word 'removed' means that the feature or character was not included in the final game.
Note that selecting levels in different ways can cause the levels to not function properly. For example, choosing an area of a level behind a Locked Door and then going back through that door will load that area, but because it is locked, you cannot go through it. You also cannot return to where you were.
The entire soundtrack can be downloaded here.
While many tracks are similar sounding to the final game, there are also some which did not get used in the final (in bold). The Main Menu track often plays during some levels, and after tracks have finished playing, it seems any track from the game is played afterwards.
Themes and Islands
Levels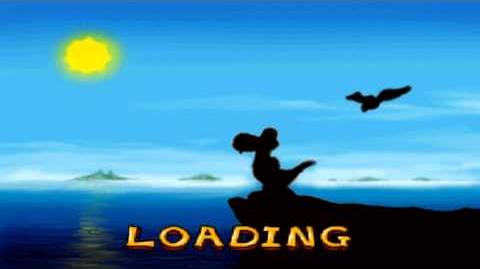 Download Instructions
Download the chosen .rar file here and extract it with a program such as WinZip, unRar or 7z. Open the .bin file with ePSXe or another PS1 emulator. You will have to search online if you do not have one. Note that you must own a PlayStation or PS2 to legally download it.
See also