Croc: Pau Pau Island (クロック!パウパウアイランド) is the Japanese released version of Croc! Legend of the Gobbos. It was released around a year after the US version of the game.
The cover seems to depict Croc and three Gobbos standing on a real island (with palm trees, something not in the game) with another tropical island in the background.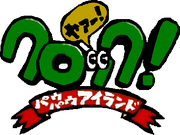 Publisher
Everywhere else in the world Croc was published by Fox Interactive, but Pau Pau Island was published (in Japan) by Mitsui Media Quest.
Differences
Gobbos are named Pau Pau.
The intro has a narrator.
Baron Dante is called Magician.
Level titles are different when translated.
No PC version was created.
Trivia
Some exclusive merchandise based on this version exists.
Community content is available under
CC-BY-SA
unless otherwise noted.