A Crab is an enemy in Croc: Legend of the Gobbos and Croc (Game Boy Color) that only appears underwater.
Information
In the main console game, Crabs only appear underwater. They will stay by the room exit and when Croc swims near them, they will jump up and snap at Croc with their claws, attempting to block the entrance to the next part of the level.
One helpful tip is to swim high above them to avoid their attacks. They can only be found on the guardian level: The Deadly Tank of Neptuna, in which they appear twice.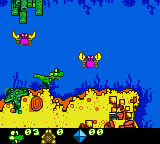 In the Game Boy Color game, crabs are pink with yellow pincers and act similarly to Bats. They will move up and down, undeterred by Croc's appearance.
Since stomping is not available in the water, Croc can only defeat them with a tail-whip.
Levels Found
Croc: Legend of the Gobbos
Croc (Game Boy Color)
Trivia
This is one of the few enemies to only appear in one level in both games.
Gallery
Community content is available under
CC-BY-SA
unless otherwise noted.