For the enemies, click here. For the Guardians, click here.

Helpful bird that whisks Croc to and from levels in
Croc: Legend of the Gobbos
Appears in the GBC Version of Croc: Legend of the Gobbos
Hero of the series, rescuer of the
Gobbos
and the person who defeated
Baron Dante
.
King of the Cossack Village
Croc's father, mother and brother
King of the Caveman Village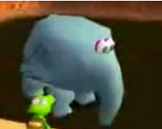 Small furry creatures that are Croc's best friends. See article for more info.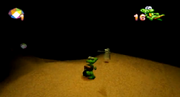 Floating, transparent creatures that compete against Croc for crystals and keys, preventing Croc from collecting them. They only appear in all
Crystal Door Challenges
on the
Desert Island
in
Croc: Legend of the Gobbos
.
Only appears in Sailor Village on Croc 2.
King of the Inca Village

King of the Gobbos, kidnapped and imprisoned by
Baron Dante
in
Croc: Legend of the Gobbos
A Gobbo who owns a shop in the Cossack Village.
Bride to King Rufus in Croc Mobile: Volcanic Panic!
King of Sailor Village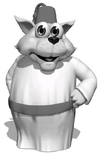 Furry creature who has shops in every village on the
Mainland