Beavers are enemies found in Croc (Game Boy Color).
Information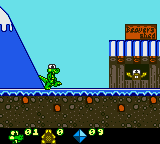 Beavers are the same colour as
gobbos
in this game, and some players may even mistake them for one the first time they play through the game due to how they even imitate the gobbos' actions.
Usually, beavers wait in a building labelled 'Beaver's Shed', leaping up and down in the same manner that gobbos do while waiting for Croc to rescue them. But when Croc gets too close, the beaver will storm him, running out of the building and continuing straight until they've left the area or Croc has defeated them with a tail-whip or a stomp.
Levels found
Trivia
The beavers are the only enemies to imitate Gobbos in the franchise.
Community content is available under
CC-BY-SA
unless otherwise noted.